Orthopaedic Journal of Sports Medicine
PRiSM has partnered with the Orthopaedic Journal of Sports Medicine and is pleased to announce that all accepted podium and presentations will be published as an online supplement following the Annual Meeting.
This exclusive partnership offers PRiSM members the opportunity to submit their research to be published at a 25% discount. Submissions are completed online at the OJSM manuscript submission site.
---
Video Journal of Sports Medicine (VJSM)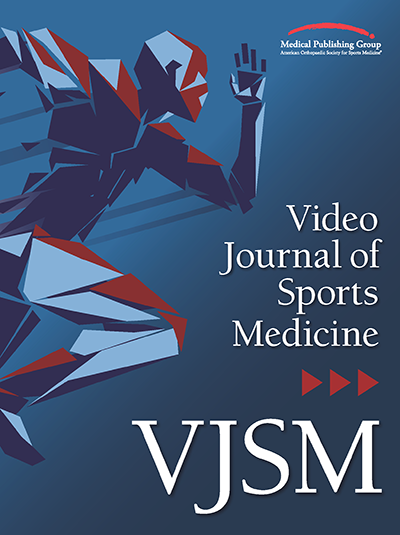 AOSSM has launched a new affiliated open-access journal, the Video Journal of Sports Medicine (VJSM), focusing on video-based teaching and learning. Unlike unregulated video platforms, VJSM is a peer-reviewed journal, so each article is fully citable and searchable with a published DOI. Readers are thus assured that all the content they access in VJSM has been peer-reviewed, and authors receive peer-reviewed publication credit for their work.

Unique in the orthopaedic journal landscape, VJSM articles emphasize video presentation of knowledge, with written materials serving to complement the video. Each article consists of an 8- to 10-minute video. Written elements include a short, structured abstract, a transcript of the narration of the video, the author conflict of interest declaration, and a reference list. The content includes both established and original surgical techniques, as well as patient evaluation, rehabilitation, and other nonsurgical treatment methods. Editorials by Editor-in-Chief Stephen F. Brockmeier "VJSM: Green and Growin" and Executive Editor Bruce Reider "VIDEO + JOURNAL = VJSM" explains the concept in greater detail.

VJSM is a gold open access journal, so all is content is available free of charge to any reader with internet access. Besides AOSSM, VJSM also has 18 international partner societies, and this number is growing. There is no cost to professional societies to become VJSM partner societies, and the society and its members receive a number of valuable benefits. All partner society members will receive a 33% discount from the normal article processing charge if they choose to publish in VJSM. There is no cost to partner societies for this additional benefit, and partner societies will receive a 5% royalty of APCs paid by their members. In addition, partner societies can nominate members to the VJSM Editorial Board. Links to the partner societies' web sites are posted in the VJSM website.