Webinars
---
Would you like to contribute to the "PRiSM Presents" webinar series? SUBMIT AN APPLICATION for consideration!
Upcoming Webinars:
No upcoming webinars at this time!
On Demand Webinars:
PRiSM Journal Club: International Sports Medicine
Thursday, January 19 @ 8 pm ET/7 pm CT
Panelists:
Amanda Black, PhD (Canada)
Javier Besomi, MD (Chile)
Dai Sugimoto, PhD ATC CSCS (Japan)
Moderators:
Cordelia W. Carter, MD
David Howell, PhD
Please join us for a journal club with these panelists to discuss three scientific articles that are representative of current pediatric sports research in their respective countries. Attendees will have an opportunity to discuss these articles with the panelists in relation to their own experiences.
Objectives:
Understand geographical differences and treatments in pediatric sports medicine.
Develop new contexts by which to understand these geographical differences and treatments.
Consider factors regarding these geographical differences and treatments and potential application to other settings
Articles:
Association between concussion education and concussion knowledge, beliefs and behaviors among youth ice hockey parents and coaches: a cross sectional study
Amanda M. Black; PhD; Keith Owen Yeates, PhD; Shelina Babul, BSc PhD; Alberto Nettel-Aguirre, PhD; and Carolyn A. Emery, PhD
Hip arthroscopy following slipped capital femoral epiphysis fixation: chondral damage and labral tears findings
Javier Besomi; Valeria Escobar; Santiago Alvarez; Juanjose Valderrama; Jaime Lopez; Claudio Mella; Joaquin Lara; and Claudio Meneses
Effect of Graft Rupture Prevention Training on Young Athletes After Anterior Cruciate Ligament Reconstruction
An 8-Year Prospective Intervention Study
Tatsuhiro Kawashima, PT; Yorikatsu Omi, PhD PT; Setsurou Kuriyama, MD PhD; Takahiko Hoshida, MD; and Dai Sugomoto, PhD ATC
Wasn't able to attend? Visit the link below to watch the full webinar!
https://us06web.zoom.us/rec/share/oJMxN7JMF73z3unznrULenM4w_ZsrexJtKFYTd54nsZ2-_A-S0A8l5zjofeaXyrH.vJsmrj9-U0we3dfI
Panelists: Elliot Greenberg, PT DPT PhD; Neeraj M. Patel, MD MPH MBS; Matthew D. Milewski, MD;
Nirav Pandya, MD; Stephanie Logterman, MD; Angela Mercurio; and Sophia Ulman, PhD - Moderator
Objectives:
Discuss how insurance status influences rehabilitation and treatment outcomes
Review the causes and consequences of delayed surgery for tibial spine fractures
Discuss how gender, race/ethnicity, and socioeconomic status influences treatment
Provide an open forum for discussion of diversity-specific topics related to sports medicine practice
Panelists: Henry Ellis, MD, Michelle Feairheller, PT, DPT, OCS, SCS, CSCS, Nicole Friel, MD, Sophia Ulman, PhD
Adam Weaver, PT, DPT, Julie Dyke, PT, DPT, SCS, CSCS, Corinna Franklin, MD, Mia Katzel, PT, DPT, Christin Zwolski, PT, DPT, PhD, Lauren Butler, PT, DPT, SCS
Objectives:
Discuss principles in pediatric ACL rehabilitation and return to play assessments
Review evidence based pediatric ACL rehabilitation to include protocols, difference in operative and non-operative philosophies, and other modalities including the use of blood flow restriction
Introduce the use of motion capture in pediatric injury including return to play evaluation
Present return to play considerations following treatment of a pediatric ACL injury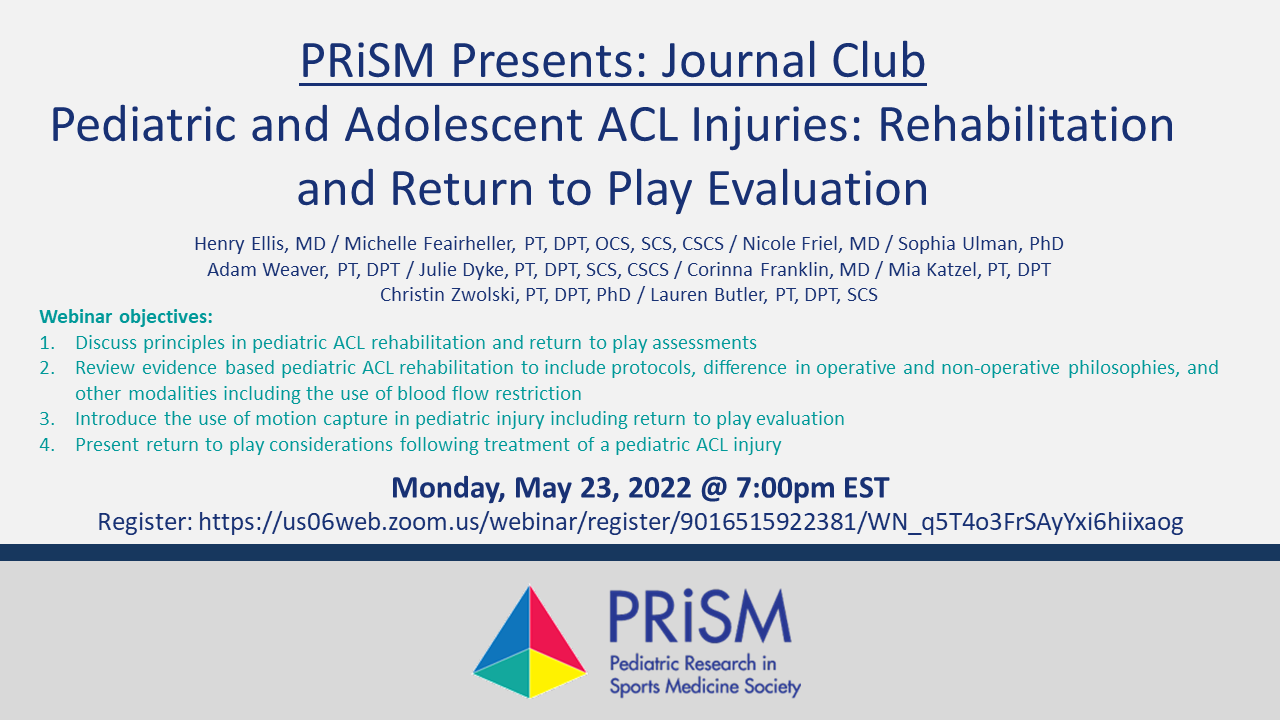 Read the articles below to follow along with the webinar:
Anterior Cruciate Ligament Injury: Towards a Gendered Environmental Approach
Joanne L Parsons, Stephanie E Coen, Sheree Bekker
Evaluation of General and Musculoskeletal Health Literacy Disparities in Pediatric Sports Injury Patient and Guardian Populations
Lisa Su, MS, Kylie Shaw, BA, Rebecka O. Serpa, BS, Jonathan Grotts, MA, Richard Bowen, MD, Jennifer Beck, MD
Racial Disparities in Concussion Knowledge and Symptom Recognition in American Adolescent Athletes
Jessica Wallace, Tracey Covassin, Ryan Moran
---
Read the articles below to follow along with the webinar:
Articles by Mininder Kocher, MD, MPH
Articles by Christina Master, MD
Articles by Mark Paterno, PT, PhD, MBA, SCS, ATC

---
Panelists: Tara Collingwood, MS, RDN, CSSD, LDN, ACSM-CPT / Svetlana Dani, MD / Cassidy Foley Davelaar, DO, FAAP, CAQSM / Ed Ryan, ATC, LAT
Objectives:
Identify RED-S and Female Athlete Triad
Learn Treatment recommendations
Identify team members strengths at taking on REDs and FAT
---
Panelists: Cordelia Carter MD, Henry Ellis MD, Michael Saper DO ATC CSCS, Marc Tompkins MD, Jay Lee MD, Carl Nissen MD, Melissa Christino MD FAAOS, Christin Zwolski PT DPT OCS, Mark Paterno PT PhD MBA SCS ATC
Objectives:
Discuss controversies associated with the treatment of pediatric ACL tears including surgical and non-surgical options, technique options, graft options, and rehabilitation/return to play decisions.
Present clinical cases to illustrate existing controversies. A case-based approach to emphasize when controversies exist.
Introduce age and development-based concepts to provide an algorithmic approach to the treatment of a pediatric ACL injuries
---
"PRiSM Presents" Webinar Archive